Travel is what we love most, and our dream was to travel around the globe. Whenever we have free time, you are likely to find us on a bus, plane or train, trying to reach a new place and make a new discovery.
We've been married for over 10 years and are lucky enough to share this passion for travel. As children, we both dreamed of traveling, and now, after 10 years together, we are excited to embark on this new journey and discover different cultures, landscapes and climates, and exchange and share ideas.
"A journey of a thousand miles always begins with a first step" Lao Tzu.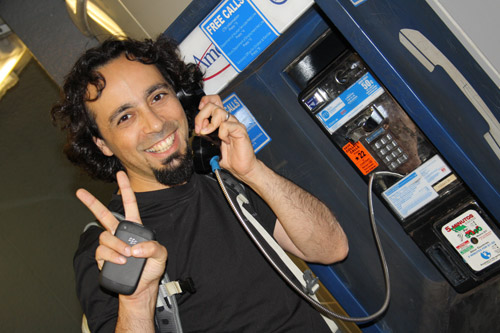 About Bassel
I was bitten by the bug (the travel bug, not the bed bug!) when I was very young. That is when I decided that a marine career would be most suitable to fulfill this dream.
Fortunately, I graduated as planned from The Arab Academy for Science & Technology and Maritime Transport in Alexandria, Egypt. But then my plans changed and I decided to start a career in the web design field, which was peaking at the time.
I quit my job to travel around the world…
It might seem scary, but deciding to quit working and travel is one of the life's great adventures. I worked for over 12 years with OT Ventures (an Egyptian Internet giant), and quitting wasn't an easy decision to make! Each time I wanted to quit, I always had the feeling that I wasn't ready yet. But finally, the right opportunity presented itself. We had a project in Toronto and I was nominated to handle that opportunity. And I did! Then, nearly two years later when the project was over, I decided to quit my job and fulfill my dream.
"What you've doing becomes the judge of what you are going to do, especially in other people's mind. When you're traveling you are what you are right there and then. People don't have your past to hold against you. No yesterdays on the road." William Least Heat Moon.
About Ariane (aka Noha):
For me, the experience has been a bit different. I had already made this decision more than 15 years ago when I left France to live in Egypt, my "adoptive country." My dream was not only to travel but to actually live in Egypt. This first adventure was for me a real journey—I ended up living and working in Cairo for over 15 years!
For me, teaching French has been more than a job—it has been a vocation that has made me happy throughout the years. On a personal level, this period has been very rich and rewarding. It is also during these years that I made decisions that would totally change my life (particularly my conversion to Islam).
The most difficult for me was to leave the things that I had chosen previously, and—like Bassel—the period of transition in Canada was a good chance for me to quit.
Fortunately, I have maintained my passion for travel. Even though I miss Egypt a lot, I have wanted to experience other countries (such as Bolivia and Africa—I'm not sure where exactly!) since I was a child.
So this journey will indeed be totally different from my first journey, which is for me a big challenge. I will have to change my routine and my way of living. It is like starting again from zero, but with new information…
2 Digital Nomads in the Media
These are links to interviews with us capturing our travels in the media.
Newspaper
YouTube