I had just arrived in New York City at JFK airport, and I was excited because my whole journey had gone smoothly (I had a layover in Zurich and spent the night in a very nice airport private room that cost $80).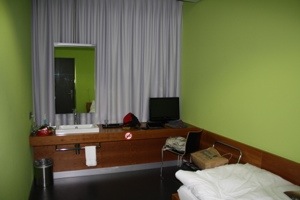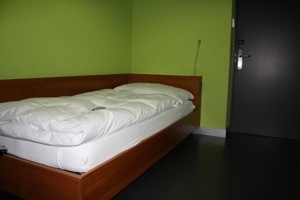 I went into the queue to stamp my passport, and I had the most wonderful welcome in all my US visits. Usually I would spend between two to four hours for "random" security checks, but for some reason this time I only spent three minutes chatting with the officer and answering all the questions he was asking in a very polite way, while smiling the whole time.
Since I only carried my backpack (which I didn't have to check in), I left the airport around 10 minutes after the plane landed, which was a world record for me.
So far it seems that New York transportation is the best in the whole country. You can easily find your way around, and since this was my second visit to the States I knew my way and made it to the subway in no time. I took a great seat, as the subway wasn't crowded, and put down my stuff (including my backpack). I stretched my legs and prepared myself for a small nap, as the trip to my host's place would take around an hour or so.
Unfortunately, I discovered that I took the wrong subway in the opposite direction, so I had to step out after only one stop, as it was the final stop in that direction and I now had to ride the opposite train to my destination.
I left the train, but I felt there was something wrong—I was so light, and it felt like there was something missing! It turned out that I had left my backpack in the train!! This is the backpack where I had my passport and my emergency money! Can you believe it?!
As usual, I freaked out and panicked and started to run left and right, shouting and yelling to stop the train. People stood watching and maybe thinking how crazy a person in NY can be! After all, this is New York, the city where a woman went topless for equality.
I found a couple of the subway workers doing some cleaning on the windows of the last unit, and started to run towards them, shouting to them to stop the train! They looked at me with pity in their eyes. This was the last stop for the train, which was already stopped and had no one inside—a fact that I hadn't notice while I was freaking out. I talked to them and explained the problem in a mix of English, Arabic, French and some body signs. Anyway, they somehow understood that I had forgotten something on the train needed them to open the doors for me, which they did.
I went inside and ran to my car, opening door after door (as my car was the very front one). At that moment, while I was running and opening doors, I saw a man holding my backpack and walking in the opposite direction out of the train. I started yelling and waving from inside the train to STOP, THAT'S MY BAG, and making faces. I didn't notice until I got out of the train and went running after him that he was the train driver. Oops! Usually when a train reaches the last stop the driver will go through the cars and check if everything is in place.
I went out of the train and explained to the driver that this was my backpack, and how thankful I was that he had found it. I was smiling at him in very stupid way, and I could see the pity in his eyes.
He gave me the backpack and I quickly checked for my passport, and was very relieved.
How stupid I was!
Lesson learned: Always check your bags before you leave the train—or better yet, tie them to your body.
What do you think?